1965 Stella Poketby portable bicycle
Tiny folder from a maker of sporting cycles
Meet the Poketby, smallest of the small, brought to us by Stella, a maker of sporting cycles in Nantes, western France. Stella was founded by one Pierre Fonteneau in 1912 when he took over a cycle manufacturer in premises also used for making sewing machines and prams. In 1919 he renamed the firm after his mother, and in 1934 he was joined by his own son, also Pierre. They had a policy of producing only quality machines and stuck to that until the factory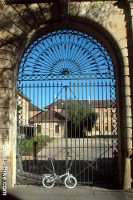 burned down in 1975. The firm's advertised address was 21 Chaussée de la Madeleine. (Nantes Métropole News Magazine )
Stella was only a small firm, so it must have been very exciting for them when one of their bikes was ridden to victory in the 50th Anniversary Tour de France in 1953. Lest anyone forget it, a transfer commemorating the event would grace Stellas thereafter, including the little bike on this page.
---
Not that anyone ever rode the Stella Poketby to victory in anything. However, it could have been a contender in the Tour de Extreme Compactness and Portability, its raison d'être. The idea was to combine a child-size bike with an extra-long seatpost and handlebars.
With those bars swung down, and the seat fully lowered, one is left with, well, something much like a child's bike. In concept it is a development of the Le Petit Bi of the late 1930s; an idea adopted by the English Bootie and, in more recent times, by any number of models (perhaps most notably the Daewoo Shuttle).
Meet the Poketby family
The Poketby (note there is no 'c') was introduced to the market in 1964 and remained there till the end. A stamp alongside the frame number on the drive side rear dropout indicates the year of manufacture. 'A' represents 1964, 'B' 1965, and so on. This one's a 'B'.
But there wasn't just the one Poketby. A period advertisement boasts a whole family of the little things:
yer standard Poketby (either three speed Sturmey Archer or monovitesse), a version for youngsters, another for even younger youngsters, and a motorised model. Yes, you read that correctly. All appear to be based on the same minimalist frame, with bits and pieces altered to suit. The ad even lists 'Le Tripok', a folding triporteur. Yes, you read that correctly.
Another ad lists a 'Montagne' (mountain) model with lower gearing and a three speed coaster brake hub, and some useful accessories.
The latter include a shopping bag to fit between the apehanger handlebars, a large bag for carrying the folded bike, and a gadget to convert your Poketby to a home trainer (demonstrated in the ad by an authentic 60s bikini girl). A slot on each rear dropout is there for attaching the bike to the trainer thingy. Yet another ad lists a single speed model called the 'Cadiby', the Poketby that grows up with your children.
On the road (in a fashion)
The Poketby may have been made for serious use, but appearances suggest otherwise, an impression reinforced on the first ride. A nanosecond on the moving bike is all it takes to appreciate that the handlebars, with little tendency to aim straight ahead, need taming, and how close you are at any time to promptly heading earthward. A firm, two-handed grip on the bars is constantly required, and while that imperative does persist on subsequent rides, with a little familiarity the initial terror fades to a more manageable brand of fear that allows at least a tiny degree of confidence.
Until you reach a steep hill. Up or down, it's a serious business. Keeping the front wheel on the ground on
upgrades is challenge enough, but added to the mix is the tendency of the handlebars to swivel towards you as you pull on them (as one does with surprising force on a steep hill). Tightening the clamp does hold the bars reasonably tight, but there is a lot of leverage going on there, and when things are steep enough the handgrips suddenly shift several degrees towards you. And as the path heads downhill, one's breath is taken away as the bars return to their original position. Slipping bars or not, the instinct for self-preservation ensures that steep downgrades are treated with the utmost respect. (All in all, it's probably best to walk up the steepest hills, for one's own sake and to avoid putting too much strain on the bike.)
That said, don't let this give you the impression that the Poketby cannot be used at all. After all, it makes no pretence at being a general purpose machine; one could perhaps say it's ok for its intended purpose, as a 'last mile' bike, as long as the conditions are not too demanding.
This example
The Poketby
you see here is a single speed version. For practicality's sake I would normally prefer at least two gears, but not in this case. The single gear is plenty (trust me!) and I can't imagine why anyone would insist on the three speed (and it would only add to the weight and complication).
This bike has survived reasonably well. It has served some time of neglect, as witnessed by the rusty patches on the paint and chrome, but I'm in two minds about giving it the full treatment, as the original finish is only there once. Anyway, those of us over 50 can be forgiven for showing a few battlescars, non?
Meant for business
Despite its doubtful road manners, the Poketby really is meant for business, as evidenced by the full equipment and quality construction. The frame features a built-in luggage rack, and there is an alloy side stand, generator lighting and alloy mudguards.
Most of the alloy bits are by CLB (Charles Lozier Bourgoin) from St Chamond, near St Etienne (thanks Classic Lightweights). It fits into the rear of my small Toyota hatchback without the need to fold down the rear seat, and I think it's just light enough (at around 12kg) to be considered portable.
Overall, the general standard of finish, and little details like the distinctly Gallic chainguard, reverse levers and fluted cranks, lend it a touch of class and credibility beyond what one would expect. Not without reason has the Poketby been called "la rolls de les mini velo" and become a much-loved institution in French collector circles.
What to make of it?
Well, what to make of the Stella Poketby? It would be easy to dismiss it as a novelty if it weren't so well made and fully equipped. Which would all be very good if the ride weren't so scary and dangerous.
But perhaps it's unfair to judge it by contemporary standards. Maybe it would make more sense if I could cast myself back to the 1960s, when there were fewer options for those wanting a truly portable bike, the world hadn't yet discovered safety standards for consumer goods, and litigation was a word familiar only to lawyers. It was also the tail end of an era when people didn't expect everything; they were still willing to sacrifice and compromise – they happily made do with what the technology of the day permitted and never thought twice about it. These days we expect perfection, with all the trimmings, and all for next to nothing. C'est la vie.
Minutiae
Wheelbase: 68cm (around a metre for a conventional bike)
Weight: Just under 12 kg
Wheels: 288 x 37
Gears: Single speed (also available with Sturmey Archer three speed)
Brakes: Calipers both ends
Materials: Lugless steel frame. Alloy hubs, brake calipers, mudguards, chainguard and reverse brake levers. Other parts chromed steel, including the Rigida rims with 'rumble strip' braking surface for some detectable braking power in the wet and irritating noise the rest of the time.

---